Well, it's still too cold to work outside for more than a few minutes at a time - it's enough to hike out to the chickens, check their food and water, toss them yesterday's scraps, and dash back to the warm house. I'm trying not to even think about all the "winter" chores and projects that are not being done. I haven't pruned, mulched, moved plants, cleaned up beds -- any of a few dozen jobs that would normally be finishing up about now. But spring will come on, regardless of my readiness, and the proof is in the piles of seed and plant catalogs piling up on my table.
One of my favorites is the
Seed Savers Exchange
. I can get lost in this beautiful book with its descriptions of heirloom and rare varieties. The names..... I can get lost in the lyrical lists of variety names. Most folks are getting hip to the heirloom tomato names but stick to the familiar varieties on the seed racks at the store for other vegetables. Not so in this selection.
Beans are my favorite. I could grow a garden of nothing but beans, just to have the labels spinning around on their bamboo sticks. I think we should all go on beyond Kentucky Wonder (Bush or Pole, both great tried-and-true varieties). Reading through the names in the Seed Savers Exchange collection, a repository saving so many varieties now on the verge of being lost forever, is like reading a history of farming and food gardening, with all the seeds that were so precious and so carefully saved only a generation or two ago. Now only a few organizations work to keep these alive and in our gardens. Just roll these old bean variety names over your tongue a few times:
Rattlesnake Snap - now, isn't
that
a vision?
Red Swam - a "dusty-rose" podded cross between a purple snap and a pinto bean
Sultan's Golden Crescent - rarely offered and almost extinct, the catalog says. I may
have
to plant these.
Lazy Housewife - enough said, obviously these are my beans.
And what about Tiger's Eye, Painted Pony, Empress, Gold of Bacau (from Romania), Good Mother Stallard or Dragon's Tongue? There is the poetic, but sadly named, Cherokee Trail of Tears? No idle ad copy here, the original stock of seeds was (quoting in full from the catalog, page 7) "given to SEE in 1977 by the late Dr. John Wyche, SSE member from Hugo, OK. Dr. Wyche's Cherokee ancestors carried this bean over the Trail of Tears, the infamous winter death march from October 1838 in the Smoky Mountains to March 26, 1839 in Oklahoma, leaving a trail of 4,000 graves." In the same era of history, the catalog also carries Lina Sisco's Bird Egg beans, originally brought to Missouri by covered wagon in the 1880's by Lina's grandmother and handed down through that family's gardens.
In case you haven't noticed, the number of small, independent seed companies has been steadily dropping. If you look at any of your catalog closely, you'll notice that many of them have the same return address. Different names, same parent corporation. They've been bought out. Burpee devoted a large effort to buying up smaller seed companies - an effort that, in turn, nearly wrecked their own balance sheets. Some of the catalogs that used to be my delight, such as Cook's Garden - which originally had pages upon pages of fabulous lettuce and sunflower varieties that I had/have never seen elsewhere - are now just additional "faces" for the Burpee Company. But at least Burpee itself is still a privately owned, family company -- and not just another offshoot of Monsanto.
Without going all political, it is well worth reading the long, but comprehensive, Vanity Fair articleabout
Monsanto Corporation's Move to Dominate World Agriculture
. It will make you think hard about your food supply and your garden's seed supply -- and what you can do to make sure that free-domain, open-pollinated seeds continue to be part of our gardening heritage for generations to come. (Somehow, I'm always startled at the excellent journalism that shows up in Vanity Fair, which is, to me, a high-priced ad rag. On the other hand, they cater to the rich and sophisticated, so I suppose quality is called for.)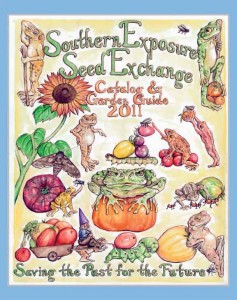 There are a number of articles on the web covering the deep and well-founded concerns that small farmers have over the gradual buy-up of seed sources and patents by Monsanto. I suggest we all do the obvious - buy seeds from
Seed Savers Exchange
or - even better, since we are in the Southeast - the
Southern Exposure Seed Exchange
(after all, they are right here in Virginia!)
It's also neat to read their
gardening blog
, which has great info for our state and the mid-Atlantic.
Now, if I could only make myself go out in the cold and get those garden beds ready.......
Stay warm, friends!
Sybil